Like most teachers, my schedule is very hectic to say the least. I teach 11 different classes and each class meets three or five times a week, depending on grade level.  I don't have my own classroom and am constantly on the move. In total, I work with over 250 students in any given week.  That's 250 different personalities, different needs, and different proficiency levels. So how do I keep stress to a minimum?  Read on to find out!
Tip #1: Get yourself a planner, and USE IT!
I'm putting this one first because it is the most important.  My planner is my holy grail. Without it, I am completely lost as a teacher.  I write down everything in my planner. I know a lot of teachers who will use the standard planner provided by the district at the beginning of the year and it works well for them.  But for me, I want my planner to be bright and exciting to look at. Afterall, I'm going to be using it every day. I've fallen in love with the Erin Condren teacher planner and continue to use it each year because it works for me.  Receive $10 off when you buy using my link!
The monthly view is where I can write down things like meetings, assemblies and school vacations.  So I won't miss anything, I transfer all of these dates to the weekly view as they come up.
The weekly view is where I write down my lesson plans so this is the page that's bookmarked for me.  Right now, a physical planner is better for me than anything computer-based because I can easily jot down notes and reminders for myself on the side. But this brings me to my second tip which is…
Tip #2: Use Google Slides to document your lessons!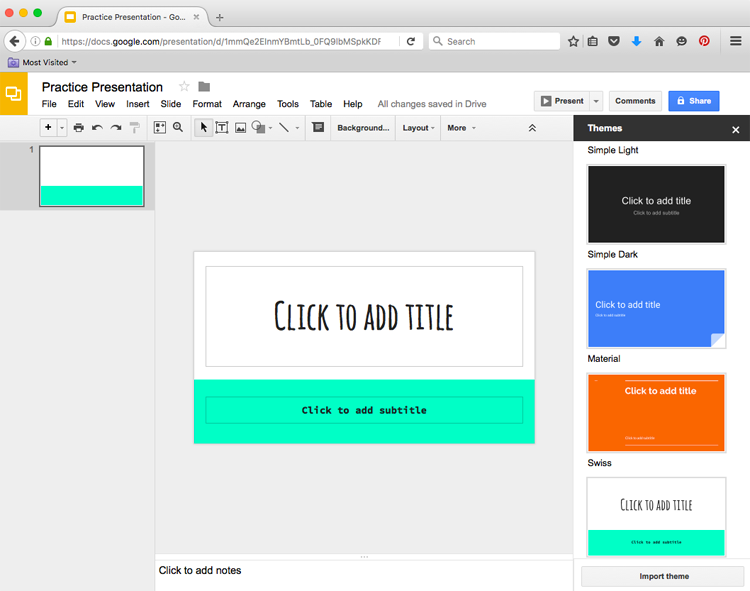 While I love my planner, I don't want to have my head down every time I need to know what comes next.  I recently saw a teacher using Google Slides as a sort of menu for her classes and I decided to try it out for myself.  The next day, I created a slideshow of the lesson I was teaching to each grade. I projected the slideshow in the front of the room so both my students and I could see them.  The slides were simple. One said "Vamos a leer un libro" (We are going to read a book) with a picture of a boy reading a book. Another slide said "Vamos a cantar" (We are going to sing) with a picture of music notes.  With the click of a mouse, my students and I knew exactly what was coming next. I've started to use this technique every day and my students really like it because they know what's about to happen. I really like itbecause my students are a) reading Spanish, b) recognizing that I plan lessons every day (not just pull ideas out of nowhere), and c) staying in the target language more than before.  Since I am a traveling teacher, writing down a daily schedule on the board is not an option. I would need to do this eight times a day. I love using Google Slides because I don't need to carry around a memory card since everything lives in the cloud. All I need to do when I enter a classroom is log in to my Google account and everything is there for me. I am looking forward to next year when I'll only need to tweek the slides from this year.
Tip #3: Embrace the Laser Pointer
This is another tip I picked up from a teacher I observed recently.  If you're going to adopt the GoogleSlides method, you're going to need this lazer pointer presenter or an equivalent.  With this, I am able to change slides from anywhere in the room.  It is fantastic! Before, I would be chained to the computer at the front of the room.  I couldn't easily monitor my students behavior and, at times, they took advantage of this.  My classroom management has drastically improved because of this tiny little controller and yours will too.  I'm serious. I've seen teachers use a wireless mouse as well. The second greatest thing about this tool is the laser pointer.  I use a LOT of visuals when I am teaching Spanish. It is easier for me to maintain 90% TL when I am using visual aids in the classroom.  I can use the laser pointer from anywhere in the room to point out something on the board. I don't need to run back and forth to the board, tiring myself out and creating a more stressful classroom environment.  This flexibility allows me to move around the room how I want, helping students along the way. If this hasn't convinced you enough, think of how excited your students will be when they find out you have a laser pointer and think about how much fun it will be to use it in your teaching!
Tip #4: Organize your Email Daily
This next tip applies to anyone, not just teachers.  Most email pages allow users to create categories or folders to organize emails but a lot of people don't use them.  I started using these two years ago to filter any and all work emails I receive and I have never looked back. When I filter my emails, nothing gets lost in the shuffle or slips through the cracks.  Here's how it works:

I have a category to fit every email I receive.  At this point, I have a LOT of categories (more than shown in the picture! and they include: office, tech notes, 3rd grade, 4th grade, 5th grade, emails from my principal, emails from my vice principal, and emails regarding various councils I am on at my school.
As an email comes in, I decide what to do with it: filter now or filter later. If I need to take action or respond, I will leave the email in my inbox to filter later. For example, if I get an email from my department head asking when I can meet with him, I will keep this email in my inbox until I've responded.  Maybe I am reading it quickly before my next class and I don't have enough time to check my schedule and get back to him. I don't want to forget to respond so I leave the email in my inbox, knowing that I will see it there later in the day as a reminder to respond. Every time I open my inbox, I will see the email there and know I still need to respond.  After I've responded and written down the meeting in my planner, I will filter it to a category. It's no longer taking up space in my inbox and distracting me from other items I need to attend to.
Some emails I can filter right away. For example, if I get an email about an upcoming assembly, I will make note of the date and time in my planner and then filter this email to the appropriate category.  This kind of email doesn't require me to respond, and so it doesn't need to live in my inbox. You wouldn't leave read mail in your mailbox, so why leave read email in your inbox?
At any given time, I will have no more than five or six emails in my inbox.  It is my ongoing "to do list". Before I leave work every day, I make sure my inbox is completely cleared.  This gives me a great sense of accomplishment and I feel relaxed knowing that no tasks are following me home or into the next school day.
Tip #5: Eat that Frog!
I saw this image on Instagram recently and fell in love with its message.  I have started to apply this mentality to my work and personal life and it has (so far) been successful.  I am happier, calmer, and able to get more done in less time when I decide to just do it rather than wait.  I am the queen of procrastination and always put things off until the last minute. This leaves me feeling stressed and anxious.  If I need to photocopy something for work, I'll wait until right before the class to do it. It's not that I don't remember I need to photocopy, it's that I know there is still time to do it.  But that whole time I am not doing it, I am thinking about how I need to get the photocopying done and it keeps me from focusing on whatever other task I've decided to do instead of photocopying.  When I finally get around to it, I get anxious that something is going to go wrong.
In this example, I worry that I'm going to find the copy machine is broken, or there is a line, or maybe I'm going to run out of paper half way through the job.  These worries and anxieties can be applied to any task, business or personal. Grading, calling a parent, making lunch for the next day, laundry….you name it! We put these things off and then stress about doing them last minute. Instead of waiting, do these things first!  Eat that frog!
I hope these tips help to relieve unnecessary stress in your work life.  Thanks for reading!
Thanks for reading! Have other tips you want to share?  Leave them in the comments below!